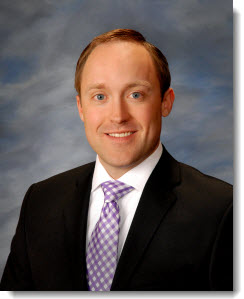 In June 2013, Brother Matt Solak started his job as the Vice President of Kindsvatter, Dalling, and Associates, Inc (KD&A). KD&A is a firm which provides governmental relations and association management services to companies. In his position at KD&A, Brother Solak provides his clients with business management services and legislative representation in Michigan and Washington D.C. The clients of KD&A include: retail trade associations, professional organizations, manufacturing corporations, energy companies, major food retailers, and others.
While at Valparaiso University, Brother Solak majored in history and political science. During college, he had two internships: one working for U.S. Senator, and fellow Phi Psi, Evan Bayh and the other working for the Governor of Michigan. His past professional experience includes working for a state representative in Lansing, MI, lobbying on behalf of insurance agents in Washington D.C. and working for a congressional campaign.
More information about Kindsvatter, Dalling, and Associates and Brother Matt Solak can be found at KD&A's website: http://www.kindsvatterassociates.com.
Congratulations on a great career, Brother Solak!